WebApp Cloud
We want you to focus on building your cool web applications and not to worry about how to host them properly and securely! Let Zaidsoft do that for you!

Zaidsoft WebApp Cloud is platform-as-service specially desired to offer best of the bread cloud computing infrastructure to enable you to run your heavy traffic online applications with speed and peace of mind. Our cloud instances are powered by highly salable and powerful hardware systems combined with our leading edge network and management infrastructure.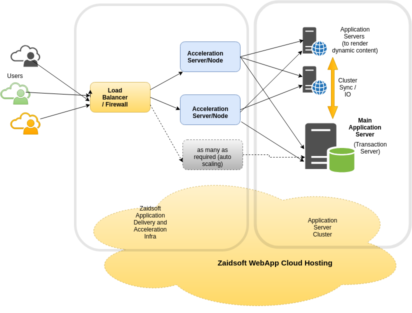 Core Features
cloud_queue Fully Managed Servers/Runtime
Entire platform right from network / data center to database to application run-time (web servers / application servers) is fully managed. Most of the functions are automated with some tasks complimented by our sysadmins.
thumb_up Dedicated / Guaranteed Resources
Guaranteed / Dedicated RAM, Disk, Bandwidth and all servers resources you can bank upon. We strive to make sure your WebApps are responsive and performant at all times and therefore we don't oversell.
layers Top-notch Hardware/Network
All hardware nodes use latest Core i7 / Xeon processors and RAID disk arrays connected to Gigabit network port. Our network is 100 % switched network with no collision domains and all traffic destined to your server goes through only the very necessary network equipment.
dns Hosted on Resilient Infra
Our cloud infra is designed to be resillient to node failures and quick recovery and resumption even in case of full data center outage. Our DNS, object storage and all other web services are highly available.
face Fully Supported
Zaidsoft Cloud is highly resilient and you can expect trouble free uptime and availability. In case you need any support, we are there 24*7 to make sure you can reach us anytime and have the peace of mind that; should any issues arises at infra end it can always be sorted out ASAP.
security Fully Secure Infra
We take security very seriously. All compute nodes are security hardened and firewalled. All data leaving a computing node and All data leaving a computing node and destined towards another node is fully encrypted. Each customer gets a Private (virtual) Cloud. Each cloud is isolated from other clouds.
vpn_key Access your cloud through VPN
Your applications run inside secure private cloud not directly reachable from outside network. We provide free fully managed VPN specifically deployed for your Virtual Cloud so you can connect to your private virtual cloud.
flight Web Acceleration
All webapps are served using our state of the art Web Acceleration and Delivery Infrastructure (WADI). All static resources are cached at your users nearest accelerator node so it gets served real quick and fast.
verified_user WebApp Firewall
All webapps run behind specially tuned web application firewall to secure your applications from most of the common security threats and vulnerabilities that can be automatically mitigated without webapp knowledge. If required, you can specify simple access rules on your own to allow or block specific request/URL patterns from specific clients.
waves Scale-as-you-go / Auto-Scale
As your application requires more and more scalability you can enable auto-scaling so new application servers nodes are spun-up and spun-down as load increases or decreases. You can also enable multiple slave database servers to scale-up and distribute database queries across these slave nodes, freeing up the primary master for processing transactions.
https Automated HTTPS Offload
All sites are served using https protocol. You do NOT need to configure or install anything. Our Web Acceleration Infrastructure automatically deploys and managed HTTPS configuration and certificates for you.
save Daily Backup
To make sure you have absolute peace of mind while hosting your business/enterprise applications with Zaidsoft, we run automated daily midnight backup of your primary disk/storage on remote/offsite backup infrastructure. However, you should always backup all your data yourself.
FAQs
Whome will we be contacting to Zaidsoft in case of any technical issues?
In general all server outages and cloud related issues are handled by Zaidsoft automatically and you do not have to do anything. We do our own monitoring for server uptime etc. If you notice some issues, you can, of course, bring it to our notice and we will resolve it. This of course, does not cover application/coding errors/bugs/features and related issues. Coding issues have to be handled by your dev team.
Does Zaidsoft outsource / divert tech support/call to other third party vendor?
We handle technical support on our own. We do not divert tech support to any third party. All tech support is available at support@zaidsoft.com. In case of Gold Support you can make a direct call to the personalized phone number provided. Standard ticket based / e-mail support is included with all offerings.
If Zaidsoft discountinues or shuts down a service, how will get support and whom to contact?
Unfortunately the services provided by us are highly dependent on our technology, software systems and expertise and so if Zaidsoft shuts down any service you will have to migrate to some other provider from next renewal/billing cycle (on expiry of your billed services). However, we would like to assure you that Zaidsoft is fully committed to Cloud and we have solid plans to continue to be in this business for a long time.
We think Zaidsoft is a partner of various generic cloud service providers, Can you tell us more about your upstream service providers?
Your services provider is Zaidsoft. As input service/hardware, we do utilize a network of data-centers across the globe to build our cloud platform. At some locations we use IaaS for some workloads/tasks but most are bare metal server racks in top notch data-centers in different locations. This configuration / server locations keeps changing to keep services confirm to our requirements; and what we assure you is consistent quality of our cloud services offerings. Changing hardware/data-center does NOT cause any noticeable downtime to you as these are automated processes and a fallback is already there when switch-over occurs. You get smooth services at your end.
Do "SA" plans offer 100% uptime?, Does it means that we should not take backup of the application and database?
No, the SLA covers 99.9% uptime. Practically (most of the time) the uptime is nearly 100% but we assure of 99.9%. "SA" means Standard Availability. For HA option you need to have two SA packages. In most cases you may not need HA option. We do automated daily midnight backup but since it's your data; you should take periodic database/file backup on your own for your data safety.
What is the scope of "Managed Services support"?
Managed Services support covers everything related to Server/Hosting/Application-Server etc. but does not cover your coding/webapp related issues/bugs/features/flaws. So developer bugs, application issues, code related memory leaks and in general any coding issue is to be handled by your developers. Everything related to cloud is covered by Zaidsoft Support. We do provide time to time advisories and help on developer issues on courtesy basis but these are also related to improving the performance of your applications and not directly related to application bugs or features.
Will your support team help our development team in configuring the application servers, application deployment, cron implementation, database backup and restore, firewall configuration etc?
Yes but please note that our provisioning system configures most of the things, others can be setup by Zaidsoft Support based on your needs. Firewall is automatically configured and you need not do anything. We do automated daily midnight backups but since it' your data; you should take periodic database/file backup on your own for your safety. We do provide you commands to run for database backups. You have to just download the files after running the command. If you want to change some configuration or firewall etc you can ask Zaidsoft Support.
How our development team will access the servers? Will it be VPN?
Through VPN or SSH Gateway. If you have just one application server, SSH gateway is preferred. In case of multiple instances VPN is better option.
In case we need to transfer the subscription to another party, what will be the procedure of it, where client will start paying directly or vice versa.
Yes you can contact Zaidsoft support with your specific requirement in this regard.
Are prices shown inclusive of Tax?
All prices quoted or mentioned on this web site are exclusive of any applicable sales tax or VAT/GST (unless mentioned otherwise). If you are a business in GST/VAT jurisdiction, you should be able to claim GST as Input tax Credit as per GST law.
Do you provide any money back guarantee?
Yes. You get 30 days 100% money back guarantee so you can be sure about the services. We are sure you will love our WebApp cloud services!
For any specific question, please do not hesitate to contact us at info AT zaidsoft.com