30 Day Money Back Guarantee
Get 100% Satisfaction; or get your Money Back 100%. No Questions Asked.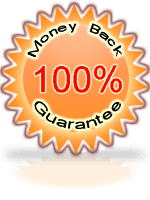 Try us out risk free! At Zaidsoft, we are very confident in our products and services. We provide fast, reliable and comprehensive service and believe that you will be completely satisfied.
We offer money back guarantee program to ensure customer satisfaction of our products and services. If for any reason you wish to discontinue service with Zaidsoft, you may do so and a full refund will issued directly to you.
The following list of terms and conditions apply to the Money Back Guarantee Program:
Accounts cancelled/terminated for violation of the Acceptable Usage Policy will not qualify for the money back guarantee.
Our "Account Cancellation Form" must be used for requesting cancellation. The Account Cancellation Form can be found here.
Cancellation requests must be put through before 30 days from the date of hosting account setup.
Setup fees (if any) and Domain Registration/Renewal Fees are non-refundable. Money Back Guarantee is aimed at Hosting Plans.
Refunds issued to credit cards may take up to 2-10 days. If the refund is unsuccessful due to credit card processing errors a refund by cheque will be issued.
Refunds by check may take up to 2-4 weeks.