# WebApp Cloud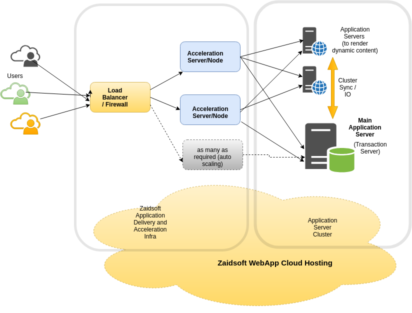 Zaidsoft Cloud offers best of the bread cloud computing infrastructure to enable you to run your heavy traffic online applications with speed and peace of mind. Our cloud instances are powered by highly salable and powerful hardware systems combined with our leading edge network and management infrastructure.
cloud_queue Fully Managed Servers/Runtime
Entire platform right from network / data center to database to application run-time (web servers / application servers) is fully managed. Most of the functions are automated with some tasks complimented by our sysadmins.
thumb_up Dedicated / Guaranteed Resources
Guaranteed / Dedicated RAM, Disk, Bandwidth and all servers resources you can bank upon. We strive to make sure your WebApps are responsive and performant at all times and therefore we don't oversell.
layers Top-notch Hardware/Network
All hardware nodes use latest Core i7 / Xeon processors and RAID disk arrays connected to Gigabit network port. Our network is 100 % switched network with no collision domains and all traffic destined to your server goes through only the very necessary network equipment.
dns Hosted on Resilient Infra
Our cloud infra is designed to be resillient to node failures and quick recovery and resumption even in case of full data center outage. Our DNS, object storage and all other web services are highly available.
face Fully Supported
Zaidsoft Cloud is highly resilient and you can expect trouble free uptime and availability. In case you need any support, we are there 24*7 to make sure you can reach us anytime and have the peace of mind that; should any issues arises at infra end it can always be sorted out ASAP.
security Fully Secure Infra
We take security very seriously. All compute nodes are security hardened and firewalled. All data leaving a computing node and All data leaving a computing node and destined towards another node is fully encrypted. Each customer gets a Private (virtual) Cloud. Each cloud is isolated from other clouds.
vpn_key Access your cloud through VPN
Your applications run inside secure private cloud not directly reachable from outside network. We provide free fully managed VPN specifically deployed for your Virtual Cloud so you can connect to your private virtual cloud.
flight Web Acceleration
All webapps are served using our state of the art Web Acceleration and Delivery Infrastructure (WADI). All static resources are cached at your users nearest accelerator node so it gets served real quick and fast.
verified_user WebApp Firewall
All webapps run behind specially tuned web application firewall to secure your applications from most of the common security threats and vulnerabilities that can be automatically mitigated without webapp knowledge. If required, you can specify simple access rules on your own to allow or block specific request/URL patterns from specific clients.
waves Scale-as-you-go / Auto-Scale
As your application requires more and more scalability you can enable auto-scaling so new application servers nodes are spun-up and spun-down as load increases or decreases. You can also enable multiple slave database servers to scale-up and distribute database queries across these slave nodes, freeing up the primary master for processing transactions.
https Automated HTTPS Offload
All sites are served using https protocol. You do NOT need to configure or install anything. Our Web Acceleration Infrastructure automatically deploys and managed HTTPS configuration and certificates for you.
save Daily Backup
To make sure you have absolute peace of mind while hosting your business/enterprise applications with Zaidsoft, we run automated daily midnight backup of your primary disk/storage on remote/offsite backup infrastructure. However, you should always backup all your data yourself.